Yogurberry launched its first store in Seoul, South Korea in 2004. Due to its phenomenal success, Yogurberry started a craze for frozen yogurt and eventually expanded throughout the world. Now, Yogurberry spans across 25 different countries with more than 270 stores. In Sydney, Yogurberry was the first frozen yogurt store to initiate the self-serve system and sparked the takeover of the Sydney frozen yogurt market.
Yogurberry's mission is to establish themselves as the paramount purveyor in the frozen yoghurt business. To provide 'premium', 'real' frozen yoghurt and toppings where you can 'treat yourself'. Indulge yourself in the delight of creating your own unique and personalised cup of yoghurt by implementing the self serve system.
Located in front of The Monkey Bar Play Area.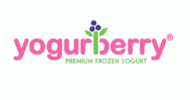 Yogurberry Trading Hours
Monday - Sunday
10:00AM - 9:00PM