Eat guilt-free every day. Your body deserves it. We have expertly trained Baristas on hand for your espresso hit along with delectable homemade sweets perfect for your afternoon pick-me-up.
Our goal at Soul Origin is to re-think the way you have thought about fast food. Available daily are amazing salads and sandwiches, seasonal soups and fruit salads, along with world class coffee and sweets.
Soul Origin is located on Level 1, in the Food Court.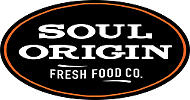 Soul Origin Trading Hours
MONDAY - FRIDAY
7:00AM - 4:00PM
SATURDAY - SUNDAY
8:00AM - 4:00PM