For over 15 years EB Games has been the number one place to purchase video game related products and media. Over this time we have evolved rapidly and now encompass over 370 retail locations located throughout Australia.
Everything that we offer from our expansive selection of new products, to our knowledgeable associates and our value-added pre-owned products are geared to deliver an experience like no other.
EB Games is located on Level 1, near the Food Court.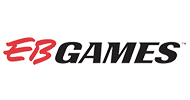 EB Games Trading Hours
Monday - Wednesday
9:00am - 6:00pm
Thursday
9:00am - 9:00pm
Friday - Saturday
9:00am - 6:00pm
Sunday
10:00am - 6:00pm