Fresh Food
T&T Quality Meats
What's exciting about T&T Quality Meats?
We are a team who truly care. Our meats are 100% natural, grass-fed, hormone and chemical free, so you can rest assured you will get nothing but the best quality.
T&T Quality Meats is located in the Fresh Food Market, on Ground Level, near Coles.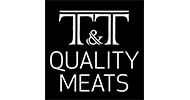 T and T Quality Meats Trading Hours
Monday - Wednesday
7:00AM - 7:00PM
Thursday
7:00AM - 7:00PM
Friday
7:00AM - 7:00PM
Saturday - Sunday
7:00AM - 6:00PM
T&T Quality Meats - Rhodes