Health & Fitness
Specsavers
Visit Specsavers, Australia's leading optical store where you will find glasses, contact lenses and a variety of eye healthcare facilities.
Specsavers focuses on supplying quality aids for improving eyesight, along with a range of services including seeing eye tests, contact lens aftercare, cataract testing and much more.
Great looks, great brands, great value. With over 1000 new styles to choose from, with 2 complete pairs of glasses including frames and single vision lenses starting from $149 or 2 complete pairs of designer glasses including Ellery, Carla Zampatti, Alex Perry, Country Road, and Tommy Hilfiger from $199.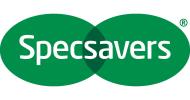 Specsavers Trading Hours
Monday - Wednesday
9:00AM - 5:00PM
Thursday
10:00AM - 7:00PM
Friday - Saturday
9:00AM - 5:00PM
Sunday
10:00AM - 5:00PM