Health & Fitness
Rhodes Podiatry
Rhodes Podiatry is led by principal podiatrist Kylie McCulloch who is also the President of the Podiatry Association (NSW & ACT). Our multilingual podiatrists have vast experience and knowledge in all aspects of podiatry including general (nail and skin care), biomechanics, orthotics, high risk, diabetes, nail surgery, paediatrics and sports injuries. Some of our practitioners are elite semi-professional athletes that have firsthand knowledge of acute based and rehabilitative podiatry care.
Our experienced podiatrists aim to provide holistic podiatric services catering for all age groups, through continued professional development and evidence based practice offering advanced and new treatment options to deal with the prevention, diagnosis, treatment and rehabilitation of medical and surgical conditions of the feet and lower limbs.
Rhodes Podiatry is conveniently located in the MyHealth Medical Centre, located on Level 8 of Rhodes Shopping Centre, accessible via the lifts next to Reading Cinemas. This allows our podiatrists to work closely with GPs and other specialists. No referral is necessary.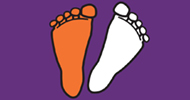 Rhodes Podiatry Trading Hours
Monday - Friday
8:00am - 6:00pm
Saturday
8:00am - 2:00pm
Sunday
Closed