Health & Fitness
Priceline Pharmacy
With fabulous brands at famously low prices, we've got your health and beauty needs covered! We offer expert advice and services combined with a huge range of makeup, skincare, hair products and fragrances!
If you love paying less on health, beauty and wellbeing – then you'll love Priceline Pharmacy Rhodes. Priceline Pharmacy Rhodes also offers a free Child & Family Health Nurse Service available in store every Thursday, from 9am to 2pm. No appointments necessary.
Priceline Pharmacy Rhodes is now open on the Ground Floor.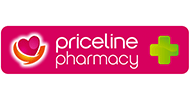 Priceline Trading Hours
MONDAY - WEDNESDAY
9:00am – 7:00pm
THURSDAY
9:00am – 9:00pm
FRIDAY
9:00am – 7:00pm
SATURDAY
9:00am – 6:00pm
SUNDAY
10:00am – 6:00pm
Priceline Pharmacy - Rhodes