Special recipes, secret sauces, traditional Portuguese cooking methods…
Oporto®'s Founder Antonio Cerqueira brought much more to Australia than just his accent, but he wasn't about to reveal the secrets of his unique, traditional chilli sauce to a soul! Instead, he opened his first Portuguese-style chicken restaurant on Sydney's famous Bondi Beach in 1986, stunning the locals' taste-buds and quickly gaining an ever-growing army of fans.
Antonio's strict insistence on the highest standards of freshness and quality, his secret sauces and the genuinely relaxed, friendly atmosphere you'd expect of a wholly-owned Aussie company combine to make Oporto®'s fresh-not-frozen, grilled-not-fried chicken deliciously… irresistible!
Oporto is located on Level 1, in the Food Court.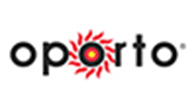 Oporto Trading Hours
Monday - Wednesday
10:00AM - 5:00PM
Thursday - Sunday
10:00am - 6:00pm
Trading hours may vary on public holidays. Please contact the store directly to confirm.