Your Rhodes Medical Health Centre, Myhealth Medical Centre offers patients a large range of quality medical services, including:
General practice and specialists, family planning and pregnancy care, infant and children health checks, immunisations, travel medicine, insurance & WorkCover, Veterans Affairs & seniors health, skin cancer checks, mental health & psychology; and minor surgery.
Myhealth Medical Centre also offers sports medicine & injury management, physiotherapy, chiropractic & massage, dental, podiatry, pathology and cosmetic medicine. Multilingual male and female doctors are also available.
Myhealth Medical Centre is located on Level 8 and is accessible from the lifts next to Reading Cinemas and is open 7 days a week. Bulk billing is available.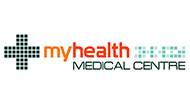 Centre Trading Hours
MONDAY - WEDNESDAY
9:00AM - 6:00PM
THURSDAY
9:00AM - 9:00PM
FRIDAY - SATURDAY
9:00AM - 6:00PM
SUNDAY
10:00AM - 6:00PM