Services
Maurice Dry Cleaners
Family owned and operated Maurice Dry Cleaners provides personalised service and a commitment to meeting our customer's requests with very competitive prices.
Maurice Dry Cleaners is located on the Ground Floor, near ALDI.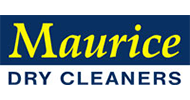 Maurice Dry Cleaners Trading Hours
MONDAY -FRIDAY
9:00AM - 2:00PM
Saturday
9:00AM - 1:00PM
Trading hours may vary on public holidays. Please contact the store directly to confirm.