Health & Fitness
Dynamic Spine Clinic
Dynamic Spine Clinic offer a wide range of services including chiropractic, rehabilitation, nutrition, musculoskeletal acupuncture, postural advice, soft tissue therapy and treatment for sports injuries.
Dynamic Spine Clinic is located on Level 8, accessible via the lifts next to Reading Cinemas. No referrals necessary. Online bookings available.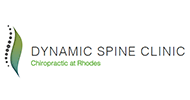 Dynamic Spine Clinic Trading Hours
MONDAY
2:00pm - 6:00pm
TUESDAY
Closed
WEDNESDAY
2:00pm - 6:00pm
THURSDAY& FRIDAY
Closed
SATURDAY
9:00am - 1:00pm
SUNDAY
Closed
Trading hours may vary on public holidays. Please confirm with Dynamic Spine Clinic directly to confirm.