Food & Drink
Corbett & Claude - CLOSED
Corbett & Claude began in inner city Brisbane and very quickly became the place to be for a mid week get together or weekend celebration. This then spurred on the opening of a second location not long after in inner suburbs Indooroopilly. We're excited that C&C has now made its way to Rhodes and can't wait to bring our Brisbane hospitality to this exciting new location.
The name Corbett & Claude pays homage to its first Brisbane location which originally, more than 100 years ago housed the Commercial Travellers Association of Queensland in the building known as Corbett Chambers, which back then was known as the go-to meeting place for commercial travellers in Brisbane... Groups would gather with friends and fellow adventurers sharing a meal with drink in hand before travelling to isolated towns selling their wares, to then return and do it all again before their next adventure.
Drawing inspiration from this old dining hall, and welcoming relaxed hospitality, Corbett & Claude's focus is on shared food done well. Small plates include grilled haloumi with peach and muscatel chutney, and pan-fried gnocchi with house-made pesto. Above all however the pizza is the hero with over 17 to choose form all with locally sourced highest quality ingredients put together in some very unique and delicious combinations, such as the beef meatballs with caramelised onion, crispy prosciutto and barbecue sauce pizza known as The Chief or The Cigar pizza with its unique rolled design filled with ham, mushroom, house made chicken bites and chipotle aioli - has to be seen to be believed. Lovers of the best meats and cheeses can also build their own charcuterie board with a selection of accompaniments – you'll drool over the choices of artisan cheese and the best cured meats. One thing you may not want to share though is dessert – treat yourself with waffles topped with toasted honey ice-cream, salted caramel and honeycomb, or warm Nutella filled mini calzones. The focus is equally on the extensive bar menu however and walking up to the bar you will quickly spy an impressive 12-tap system, which pours craft beer – including Corbett & Claude's own house lager – and a selection of wines, as well as a wide range of spirits and colourful cocktails.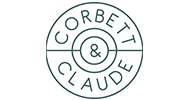 Corbett and Claude Trading hours