For over 90 years, Coles has continued to deliver quality products, outstanding customer service and great value to millions of Australians.
Today, our long term commitment to helping Australia grow means we're working towards a sustainable future, forming lasting relationships with Aussie farmers, and supporting local jobs in the food industry.
Click & Collect straight to your car boot! Parking bays located on P1 South.
Click here to make your Click & Collect order now.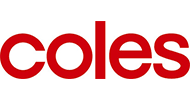 Coles Trading Hours
Monday - Saturday
7:00AM - 11:00PM
Sunday
7:00AM - 10:00PM