Chambers Cellars is located on the Ground Level, near Flight Centre.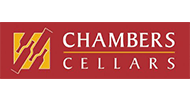 Chambers Cellars Trading Hours
MONDAY - WEDNESDAY
9:00AM – 8:00PM
THURSDAY
9:00AM – 9:00PM
FRIDAY
9:00AM – 8:00PM
SATURDAY
9:00AM – 8:00PM
SUNDAY
10:00AM – 7:00PM
Trading hours on Public Holidays may vary. Please contact the store directly to confirm.