10 Best Restaurants for Cheap Eats in Rhodes
Welcome to Rhodes, Sydney, a haven for budget-conscious food lovers seeking the best cheap eats in town. This vibrant suburb offers a delightful array of culinary gems that won't break the bank, from bustling restaurants serving authentic cuisine and the charming, under-the-radar eateries.

Join us as we explore the most affordable restaurants in the area – we'll uncover where to eat in Rhodes to indulge in mouth-watering dishes without compromising on taste or quality. Whether you're a local seeking hidden gems or a visitor looking to make the most of your budget, this guide will take you on a flavoursome journey through the best cheap eats that Rhodes has to offer. Get ready to treat your taste buds and embark on a wallet-friendly culinary adventure!

Best places to eat in Rhodes for a cheap and quick bite
1. Gozleme King Rhodes Waterside
Gozleme King Rhodes Waterside is a haven for lovers of Turkish cuisine. Serving some of the best cheap eats in Rhodes, this vibrant eatery offers a mouth-watering array of traditional gozlemes – a popular Turkish pastry filled with a variety of savoury and flavourful ingredients.

Serving classic options like spinach and feta cheese to more adventurous combinations such as chicken and mushroom, Gozleme King caters to every palate. The skilled staff prepares these delicious delights right before your eyes, ensuring freshness and authenticity with each bite. Plus points: Gozleme King serves amazing coffee, too!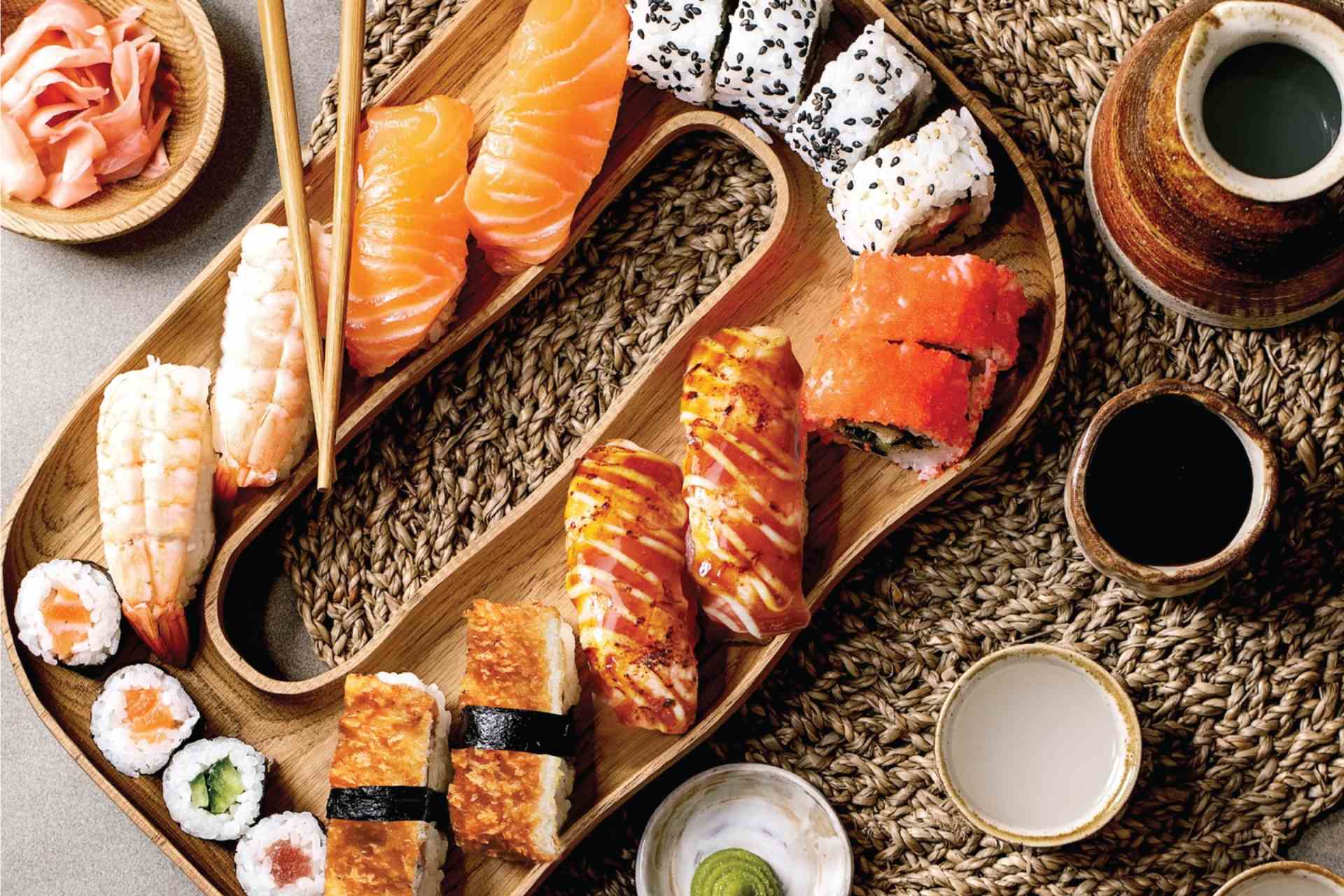 2. Sushia Rhodes
High-quality sushi at affordable prices? Count us in! Sushia Rhodes Waterside proudly serves authentic, restaurant-quality Japanese cuisine that you can order for takeaway. If you happen to be in search of cheap eats you can serve for dinner at home or bring to a potluck gathering, their sushi platters make for an ideal choice.

In addition, Sushia's delicious bento boxes and poke bowls are perfect options for days that all you have time for is a quick meal at the food court. Oh, and did we mention they serve udon and donburi bowls, too? Yum!
3. Coles Rhodes Waterside
If you're in a rush and in need of an inexpensive meal, the Grab & Go Snacks at Coles Rhodes Waterside are an ideal choice. These meals come pre-packaged and offer more than just a quick fix for hunger as they consist of high-quality options like salads, sandwiches, and poke bowls.

Coles' ready-to-eat meals don't compromise on taste or quality, making them an excellent option for busy days when you have limited time and budget!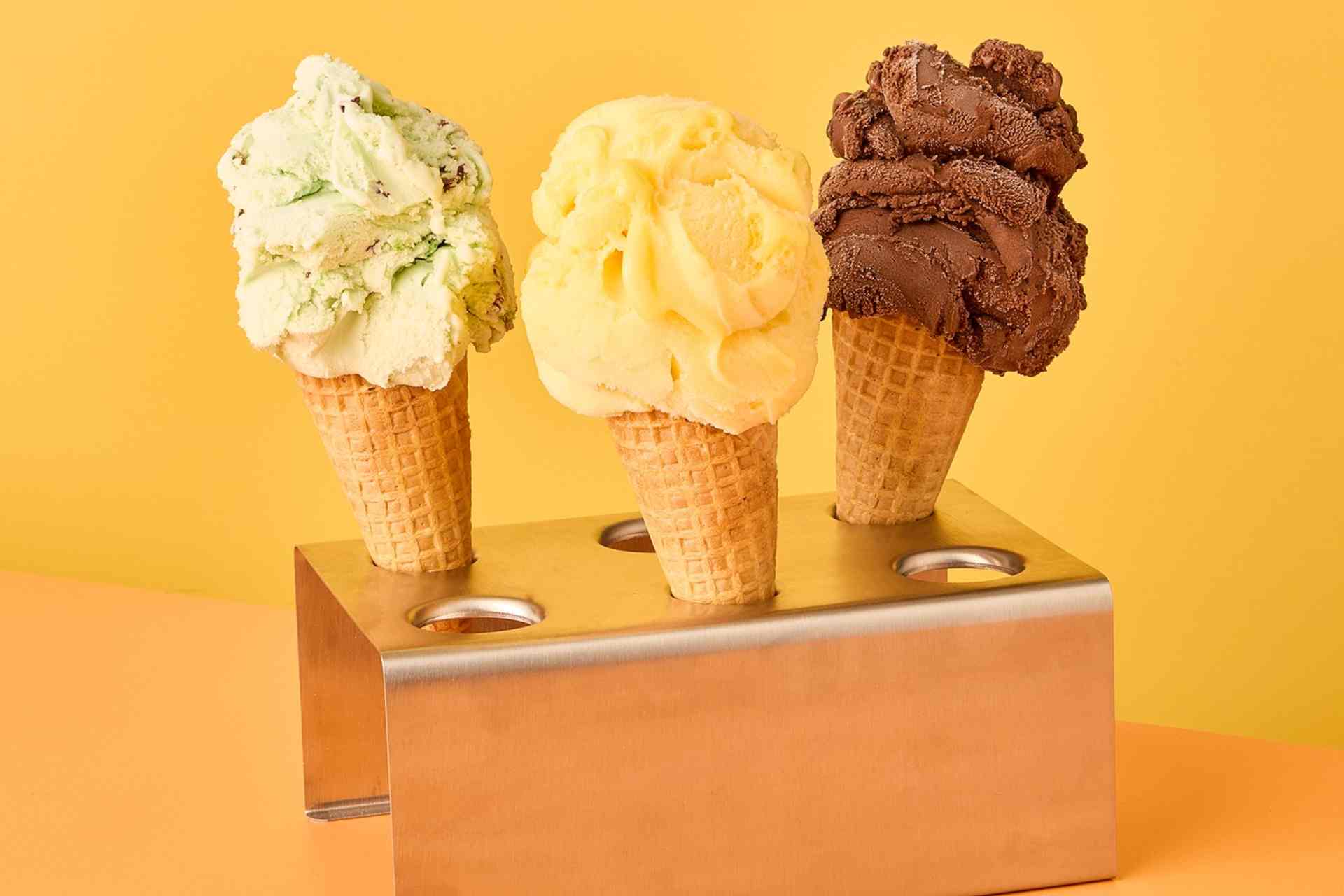 4. Gelatissimo Rhodes
In need of a sweet treat? When it comes to satisfying your sweet tooth, you can never go wrong with gelato. Gelatissimo Rhodes takes pride in serving a wide selection of gelato flavours, each one freshly crafted in-house daily.

From refreshing sorbets to rich, creamy gelato options, Gelatissimo has a flavour for every palate – you'll definitely have a tough time narrowing down your choices! Besides the option to have your gelato in a cup or a cone, you can also have yours with a warmly toasted donut or waffle. Plus, as if that wasn't sinful enough, this gelateria recommends topping it all off with a drizzle of hot Nutella!
Cheap restaurants in Rhodes for a hearty meal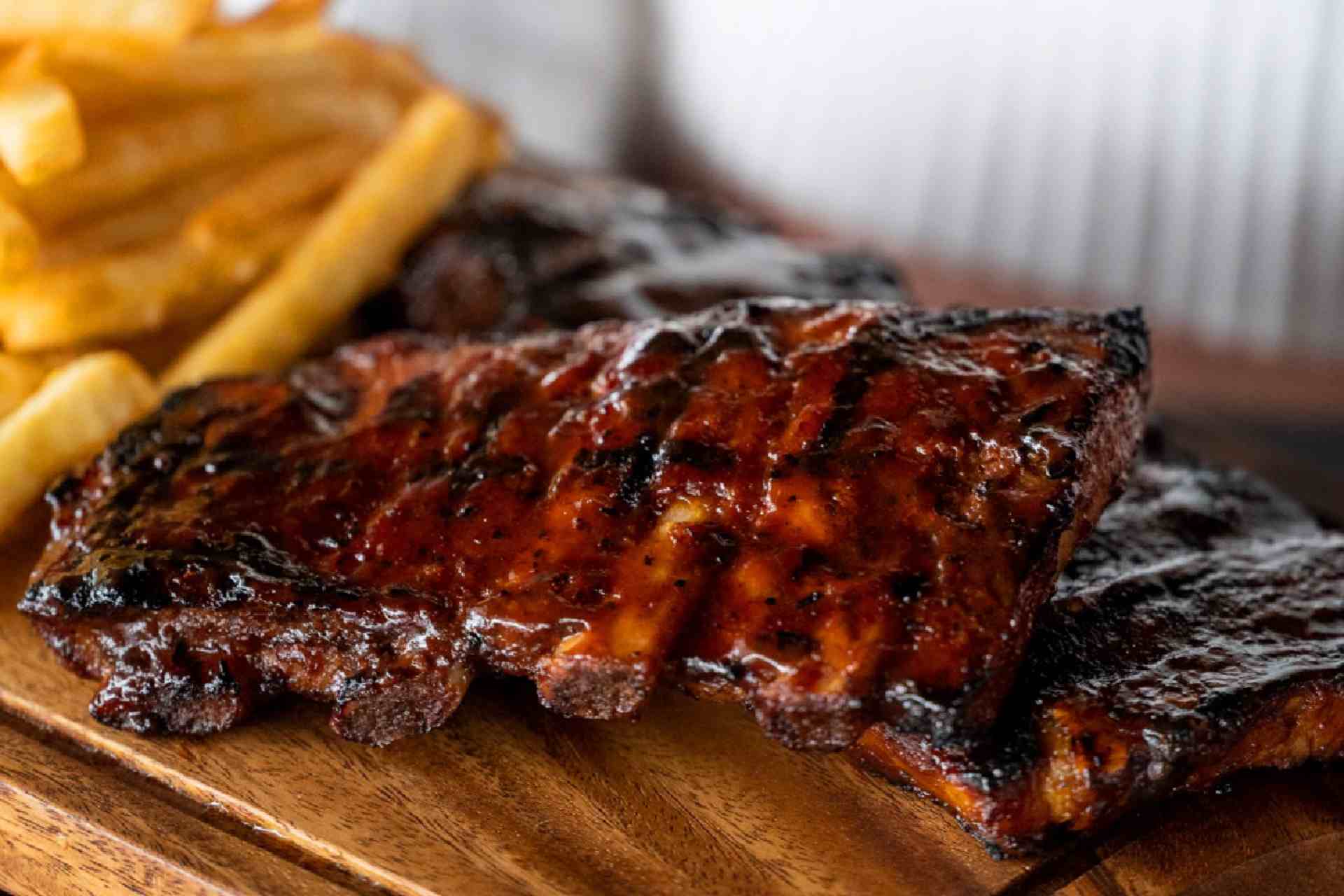 5. Ribs & Burgers Rhodes
Ribs & Burgers is a go-to spot for meat lovers in search of hearty and indulgent fare. This restaurant in Rhodes specialises in mouth-watering ribs and burgers, crafted with utmost care and attention to detail.

The menu boasts an impressive selection of beef, pork, and lamb burgers, perfectly grilled to juicy perfection and served with a variety of delicious toppings and sauces. For those craving fall-off-the-bone goodness, Ribs & Burgers offers tender racks of ribs, slow-cooked to smoky perfection and generously coated with their signature barbecue sauce, too!
6. Rashays Rhodes Waterside
Rashays, situated in Rhodes Waterside, is a popular dining destination that offers a diverse menu with something for everyone. This family-friendly restaurant prides itself on providing delicious meals at affordable prices.

Whether you're craving pizza, burgers, pasta, or a salad, Rashays has you covered. With a commitment to using quality ingredients, this restaurant delivers a delightful fusion of flavours. Perfect for a casual lunch, a satisfying dinner, or a special occasion, Rashays guarantees a quality dining experience.
7. Oporto Rhodes Waterside
Known for their delicious and affordable Portuguese-inspired cuisine, Oporto Rhodes Waterside serves some of the best cheap eats in Rhodes. The popular restaurant's specialty is its famous flame-grilled chicken, which is cooked to perfection and seasoned with a delicious blend of spices.

In addition, the Oporto menu features a range of other tasty dishes such as burgers, wraps, salads, and sides, all made using fresh and high-quality ingredients. The restaurant's casual atmosphere, combined with its good food and reasonable prices, make it a go-to spot for locals and visitors alike!
8. Guzman y Gomez Rhodes
In search of cheap eats in Rhodes that provide excellent value for your money? Look no further than Guzman y Gomez Mexican Kitchen – a dream come true for Mexican food enthusiasts. Located in Rhodes Waterside, this lively restaurant presents a delightful combination of flavours that will transport your palate directly to Mexico.

Indulge in their renowned burritos, tantalising crispy tacos, and generously topped loaded nachos, as Guzman y Gomez delights with its irresistible menu. Each dish is prepared with a focus on clean food (meaning no preservatives and artificial flavours!), ensuring every bite bursts with bold and fresh flavours. Prepare to be hooked and craving for more after your visit to Guzman y Gomez Mexican Kitchen!

Healthy and cheap eats in Rhodes
9. Ayada Thai Rhodes Waterside
Ayada Thai, located in Rhodes Waterside, is a hidden gem that brings the authentic flavours of Thailand to the heart of Sydney. Step into this vibrant restaurant and be transported to the bustling streets of Bangkok with its rich aromas and vibrant decor.

Ayada Thai is renowned for its extensive menu featuring traditional Thai dishes crafted with precision and love. From aromatic curries and tangy stir-fries to fragrant soups and delectable noodle dishes, this Rhodes restaurant offers a delightful array of options that cater to all taste preferences. Each dish is expertly prepared using fresh ingredients and authentic Thai spices, ensuring an explosion of flavours in every bite.

10. Top Juice Rhodes Waterside
Renowned for serving nutritious and cheap eats in Rhodes, Top Juice offers an extensive menu of freshly squeezed juices, smoothies, and fruit blends bursting with vibrant flavours. The juice bar also serves a variety of delectable food options, including salads and acai bowls.

With its inviting and modern ambiance, Top Juice provides a perfect oasis for health-conscious individuals seeking a quick and satisfying meal or a revitalising pick-me-up!
Rhodes is home to a diverse range of affordable restaurants that offer delicious food at reasonable prices. From Portuguese flame-grilled chicken to flavour-filled Mexican burritos, there's something for everyone's taste buds in this Sydney suburb.

For locals and tourists alike, there's no need to break the bank when dining in Rhodes. These affordable eateries offer delicious meals without compromising on quality or taste, making them a great option for those on a budget. So, why not check out some of these cheap eats in Rhodes for yourself? You're sure to be pleasantly surprised!