Health & Fitness
Rhodes Fix Feet Podiatry
Welcome to Rhodes Fix Feet Podiatry.
Our focus is to remedy lower limb pathologies that may hinder your everyday quality of life. Common ailments may include heel pain, biomechanical malalignment, knee troubles, ingrown toe nails, muscular weakness or tightness, stress fractures, shin splints, Achilles tendinopathy, ankle instability due to sprains and ligamentous laxity. Whatever your ailment our aim is to provide a solution which will resolve and inhibit any recurrence.
Rhodes Fix Feet Podiatry operates from the multidisciplinary BODYFOCUS Physiotherapy & Sports Injury Clinic and is located on Level 8, accessible via the lifts next to Reading Cinemas. No referrals necessary.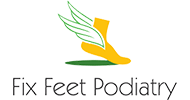 Fix Feet Podiatry trading hours
MONDAY - FRIDAY
9:00AM - 6:00PM
SATURDAY
8:30AM - 2:30PM